Every year, we make consistent efforts to minimise the negative effects on the environment and continuously look how to enhance the customers experience.
GreenWood Family Park is an award-winning family fun adventure park nestled in the foothills of Snowdonia in North Wales with over 30 rides and activities, celebrating the beauty of nature through eco-friendly and sustainable entertainment, using green energy produced by the sun, water and even humans.
Have you ever wondered where the 'Green' comes from in GreenWood? Well, it's pretty simple really. We really care for our planet and so when our story started, we made it our mission to build a park to celebrate the beauty of nature in the most environmentally friendly way we could.
GreenWood has long been a pioneer of eco-friendly fun, the famous and unique 'people powered'
Green Dragon rollercoaster debuted in 2004, which uses the weight of people queuing to go on the rollercoaster to power its current journey. The rollercoaster is 100% energy efficient and even feeds electricity back to the national grid when at full capacity.
Continuing the theme, 2016 saw the unveiling of SolarSplash, the first ever solar powered ride in the UK. The ride, involving riding dinghies down tubes as long as 91 metres, is powered by our own solar PV array that also provides 80% of the entire park's energy needs. The panels will also reduce our carbon expenditure by 1,700 tonnes.
GreenWood is the UK's first theme park to be powered entirely by renewable energy!
Water
Our Rainwater Harvesting System takes the rain that falls onto the roof of our Woodbarn Café and uses it to flush our toilets, saving many litres a year of high-quality drinking water.
We harvest 130 cubic meters of rainwater each year.
Our current water usage is approximately 15.5 litres per visitor per year.
Electricity
GreenWood's Solar Array consists of 576 solar panels, this 150kW solar array not only powers the SolarSplash ride, but also provides around 80% of the park's annual power requirement.
Since being installed in 2015 the array has generated over 839Mwh of electricity. This is enough to power 254 houses for one year and has saved 420 tonnes of Co2 (and would have cost over £275,00)
Any excess power not used to run the park is then fed back into the national grid to be used by others.
Carbon Fixation/Loss
We have planted over 260 trees every year since 1993, totalling over 5,000 trees!
Our land is primarily now mixed woodland that not only helps to fix carbon from the atmosphere, improves soil fertility and porosity and provides habitats for diverse wildlife.
If we cut have to cut a tree for any reason we utilize most of it: top for den building, middle for log sawing and base for fire wood.
We used locally grown Oak, Larch and Douglas Fir to build the Woodbarn.
Wherever possible we use locally grown timber for our fencing and construction projects.
Wildlife at GreenWood

Wildlife surveys at GreenWood indicate we have a growing range of native flora, as well as different birds and invertebrates using the site. The bio-diversity of the site has increased significantly since we opened in 1993.
Every year, we undertake pro-active tree planting, coppicing, bramble control, pond construction and habitat creations.
We have many bird boxes around the park to encourage our native birds to breed here.
Otters have visited GreenWood in teh past, perhaps looking for food or for somewhere to make a home. To encourage them to return we have built them a new home, known as a holt.
Throughout the years many fascinating types of fungi are spotted here. During a Fungus Foray, a diverse list of almost 90 species of fungi was gathered in little more than an hour by approximately 30 foragers.
Food and Beverage
Our used cooking oil is processed into biodiesel.
All food waste from the café gets recycled.
We try to use suppliers who are within a 27-mile radius of the site.
Where single use plastic is unavoidable we try to recycle as much as possible.
All cardboard that comes into site via deliveries is recycled.
Many of our food and drink containers are biodegradable.
Retail Shop
We stock recycled items for sale eg – Newspaper pencils, rulers made form CD's and toys made from milk bottles.
Most of our cuddly toys now have recycled filling, and some are even made entirely from recycled plastic – even the fur
Our GreenWood bags of sweets come in compostable packaging.
Our Fairy Dust Glitter is biodegradable
Rides and Activities
The majority of the rides and activities harness the visitor's energy to provide an adventure with a difference, making the Park a truly unique visitor experience.
The Green Dragon roller coaster is the world's only people powered roller coaster.
SolarSplash is the first solar powered ride in the UK, electricity is used to power the large water pumps that supply water to the top of the SolarSplash, this electricity is offset by the power generated by the solar panels.
Other rides and Activities
Let your little ones test their nerve and agility as they tiptoe across stepping stones, scale walls and race through tunnels and balance bridges in our new Giant Quest, then you'll need to work as a family to pull yourself along the Enchanted River Ride canal using ropes and just a paddle.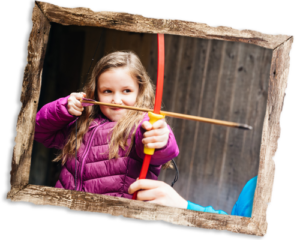 Fancy your chances as a modern-day Robin Hood? under careful supervision, shoot a traditional longbow, just like the Welsh archers hundreds of years ago. Or how about letting the kids experience the thrill of driving a 4×4 car, test their driving skills by manoeuvring their way through the trees in our Woodland Rovers powered by our solar array,
Get caught in the WildWEB! a six-metre-tall double mast rope pyramid, reach for the sky on our super giant jumper and test your problem-solving abilities in Britain's only boardwalk maze
Become one with nature and lose the shoes and socks, our Barefoot Trail is the first of its kind in Wales and offers the sensory experience of walking barefoot through different terrains including sand, bark, straw, timber and water, and could you survive in rugged country without the comforts of home? try your hand at constructing a shelter in our den building area.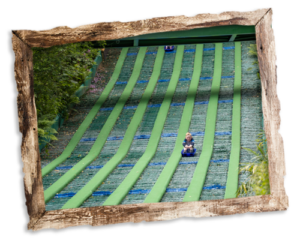 And don't miss the magnificent Great Green Run – an amazing 70 metre Sledge Run and the longest in North Wales, or our pedal powered moonkarts where the whole family can whizz around our circuit.
Find out more about our Rides and Activities here
In February 2010, GreenWood was listed by The Guardian's 'Green Travel List' as one of the 7 top green attractions in the world. We were also awarded the Go Responsible and Sustainable Green Award in the 2021 North Wales Tourism Awards, and awarded the Green Business Award in the Daily Post Business Awards 2022.
GreenWood Family Park is also proud to be a Natural Partner of North Wales Wildlife Trust, committed to working in partnership towards the protection and conservation of our natural world.
Head over to their site to see find out more about their work, how you can help support this charity and do your bit to help, plus there's lots of fun activities for the whole family.