New Summer Weekend Pass Offer
Double The Adventure, Double The Fun!
Take advantage of our WEEKEND PASS OFFER now! With a whoowhooping *Free Sunday or Monday entry to GreenWood Family Park when you book a Saturday or Sunday visit this summer!
We're offering a free second day visit to GreenWood family park this summer throughout July & August which means when you book your Saturday or Sunday tickets this Summer you will receive FREE entry to GreenWood the following day!
Double The Adventure! Double The FUN!
*You need to provide proof of your Saturday & Sunday ticket purchase along with ID for the second day admission. The passes cannot be passed on.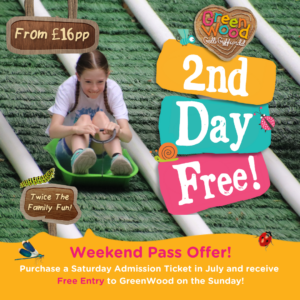 A day at GreenWood Family Park is jam-packed! ending with dirty knees & Ice cream covered faces, goodies and hoodies, mucky paws and sleepy babies… an epic adventure, awesome fun that's truly unforgettable!!
*Please note this offer does not include Bank Holiday Monday and finishes on the 27th August.