New For 2023 – Cwtch Corner
NEW GREENWOOD ANIMAL PETTING AREA – CALLED CWTCH CORNER
Goats, sheep, rabbits, guinea pigs & more…. An exciting new addition to GreenWood Family Park this Summer! With the opportunity to meet the animals, give them a cuddle and even *feed them!
Opening Sunday 30th July! Meet the animals included in your ticket price..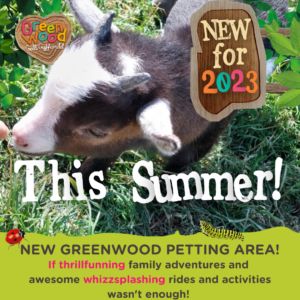 A day at GreenWood Family Park is jam-packed! ending with dirty knees & Ice cream covered faces, goodies and hoodies, mucky paws and sleepy babies… an epic adventure, awesome fun that's truly unforgettable!!